Ah, winter.  Mother Nature's gift that keeps on giving, whether we like it or not!  And this was pretty much how I was feeling last Tuesday and Wednesday…..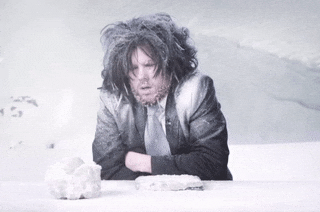 While in hibernation mode this past week, I found myself catching up on some television shows.  Anyone else watching I Am the Night?  Great series.  My guilty pleasure has been The Masked Singer……I even had a couple of correct guesses!
I've been a bit restless with my reading, finding it difficult to focus on any of the ones I've started.  I did finish up a few:
San Diego Noir — 3 out of 5 stars.   Another title in the Akashic Noir series, one of my favorite series going.  This one started out strong, but about halfway through I found the stories becoming a bit lackluster.
Things Fall Apart by Chinua Achebe — 3 out of 5 stars.  A classic that I had on my 2019 to-read list.  Overall, yeah, it was good and I understand why this is on many reading lists.  It just didn't grab me like I thought it would.  I do think I should reread it when I'm more focused, as I may not have given it the chance it deserves.
Stalking the Dragon by Mike Resnick — 4 out of 5 stars!  This was a fun romp through an alternate Manhattan, complete with a miniature dragon named Fluffy, a living wax museum, zombie bodyguards, and a sassy cell phone (yes, you read that correctly).  Added bonus:  it takes place on Valentine's Day, perfect reading for the 14th!
Have a great week, and, as always, Happy Reading!