The snow is finally gone, the trees are starting to leaf out, and yes, I did feel a bit like this earlier this week…..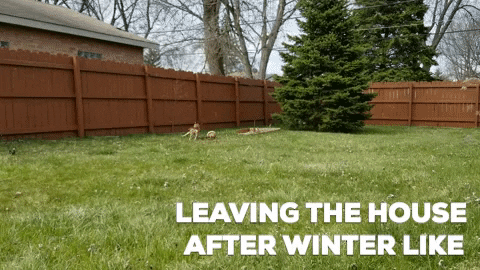 Even after spending a lot of time outdoors, cleaning the yard of tree limbs from winter storms, I was able to find time to finish some great books!
The Library Book by Susan Orlean— 5 out of 5 stars!
I posted a full review on March 23, 2019.  Very interesting and highly recommended.
The Nameless Dark by T. E. Grau—  4 1/2 out of 5 stars!
Short stories can be a bit of a hit or miss for me, but Grau's debut collection from 2015 is a definite hit!  Each story in this "weird horror" collection is unique and well fleshed out, with a broad range of settings and characters.  Grau is adept at holding your hand and pulling you in, only to punch you in the face and leave you wanting more.  Highly recommend.
Wayward by Blake Crouch—  4 out of 5 stars!
Book 2 in the Wayward Pine series.  I made the mistake of reading book 1, Pines, shortly after watching the television series, so the whole "big secret" that makes up the bulk of book 1 was a bit underwhelming.  However, Wayward takes the story up a notch or two, with some twists that were not in the show.  Looking forward to getting my copy of book 3, The Last Town, later this week!
Death in the Stacks by Jenn McKinlay—  3 1/2 out of 5 stars
A cozy mystery with a library setting.  Another fun, quick read, but I have to admit I think I've had my fill of cozies for awhile!
Countdown by Deborah Wiles—  3 out of 5 stars
YA (actually more in the middle grade range) set during the Cuban Missile Crisis of 1962.  While there are some historical references, the story is more about friendships, family, and early teen awkwardness.
This looks to be the beginning of another busy week, with the added bonus of visiting the annual AAUW used book sale on March 30.
Until next time, as always, Happy Reading!