Here in the States, Memorial Day weekend is fast approaching, giving us a glimpse into the upcoming summer season.  Barbecue grills come out, campers are cleaned and restocked,  and everyone in general begins to plan summer adventures, big and small.
One of my favorite things about summertime is traveling.  It doesn't matter if it's a day trip to the beach, a hike in the woods, wandering around the zoo, or a weeklong trek through as many random towns, state parks, and/or states as possible.  There's just something about summer that makes me want to explore places outside of my normal routine.
Sadly, I can't always partake in yearly adventurous exploring.  Real life is often a bitch and for me, when I can't escape from the daily routine and everyone else seems to be body surfing in Hawaii or mountain climbing in Tibet, I turn to books.  Of course!!  🙂
The following, in no particular order, are some of my favorite nonfiction books of adventurous travel (all get a 4 or 5 star rating from me).  Yes, there seems to be a theme of single person traveling long distances, but isn't that what a true adventure is?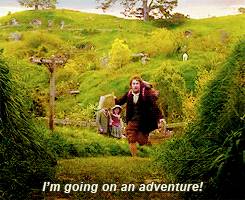 Wild by Cheryl Strayed 
After her mother's death and a failed marriage, Cheryl Strayed made a life-changing decision to hike the Pacific Crest Trail, a rugged 1,000+ mile trail that stretches from California's Mojave Desert to the border of Washington state and British Columbia, Canada.  She had little experience or training, an over-packed backpack, and hopes of learning more about herself and some of her questionable life decisions.  We follow not only her physical journey but her emotional one as well.
Tracks by Robyn Davidson
Robyn Davidson makes her journey across the Australian Outback with four camels and a dog for company.   While not as introspective as other solo journeys, it is still entertaining and inspiring.  Quick side note:  if anyone has seen the movie, let me know if it's any good.  🙂
The Places In Between by Rory Stewart
I read this one several years ago and I still place it at the top of my favorite nonfiction.  Stewart walked across Afghanistan, no easy feat for anyone, foreigner or not.  There is something about his story-telling abilities that had me hooked, and I found myself emotionally involved in his journey.
Getting Stoned With Savages by J. Maarten Troost
I've read all of Troost's books about his time living on remote islands in the middle of the Pacific, and this one is my favorite.  Personally, I think the man is a bit of a masochist for continuing to return to the "same squalor/different island", but it does make for some entertaining reading.
Giant Steps by Karl Bushby
Bushby, a former British paratrooper, sets a goal to basically walk around the world:  36,000 miles over the Americas, Asia, and back to his home in England.  This book chronicles the first leg of his journey from Punta Arenas, Chile to the westernmost tip of Alaska ( a stone's throw from Russia).  He does focus more on the first part of the journey, once he hits the United States and Canada things seem to get glossed over (maybe things just weren't as exciting in this neck of the woods!  🙂  ).  I'm kind of bummed that nothing new has been added to his twitter account since 2018, I hope he's still following his dreams and goals.
Shadow of the Silk Road by Colin Thubron
This one mixes a lot of historical info with modern day imagery.  Thubron didn't mess with walking the entire Silk Road, he took advantage of all modern transportation that was available (and I don't blame him!!).  This book shows an interesting juxtaposition of distant history and modern tech living side by side.
—————————————————
And a quick note about this month's All Dragons Read dragon:  he has definitely done his own traveling, from a small shop in the Bahamas, to my friend's house in Tennessee, then across the States to my living room in Washington state.  More traveling than I've done in the past couple of years, haha!
Feel free to share your favorite adventure books!  And as always, Happy Reading!