Today is officially the first day of autumn, my favorite time of year!  And yes, this pretty much sums up how I was as a kid raking the leaves…..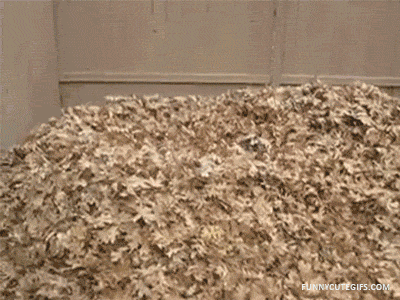 It's the time of year for hot cider, pumpkin patches…. and going through my Halloween to read list.  With the exception of one nonfiction (and another one I'm currently reading), I am now in full-on scary story mode.  Let's bring it on!!
The Week in Books—
The Toll by Cherie Priest — 4 out of 5 stars
This was one of those "fun" horror stories that  I couldn't put down, and I probably shouldn't have liked as much as I did.  Granted, I highly doubt the author intentionally wrote this like a made for TV movie that we've all seen on the SyFy channel, and I don't think I was supposed to giggle at certain scenes, but I couldn't help it.  For the love of God, I want to see the visual of the final "battle" scene, complete with crappy special effects! 😀   I started this book by taking it seriously, which by page 60 or so started pissing me off.  When I started reading this as a fun weird horror, that's when I started to enjoy it.  My apologies to the author if it was meant to be some heavy serious novel, but I found it more fun than frightening.
A Little Sorrowed Talk by Brian Keene — 3.5 to 4 stars out of 5
This short story collection was one of those collections that when it was good, it was very, very good, and when it wasn't it was meh.  A very eclectic collection, ranging from light horror to "weird fantasy" (the author's words, not mine, but very true!).  This was my introduction to Keene's work, and while I liked it I would not recommend it for a first-time read.
The Cabin at the End of the World by Paul Tremblay — 3.5 out of 5 stars
I don't want to say this but I may have to give up on reading Tremblay's stuff, or at least the books I've heard too much about.  I have heard nothing but praise for his works but I was disappointed by my last read, A Head Full of Ghosts, and while this one was a bit better, it still didn't measure up to my preconceived notions of this author's work.   I will say it was an interesting take on the Four Horsemen of the Apocalypse, but there were just too many times I found myself counting the pages until the next chapter break so I could put it down.
Contamination Book 1:  The Onset by T. W. Piperbrook — 3 out of 5 stars
This novella is the first in a 6 part series about a zombie apocalypse.  Not a lot of new material, you have your outbreak situation and the typical cast of survivor characters.  But one thing I liked about this intro to the series is that it's fast-paced and does add a bit of a different twist to the zombie genre.  I am interested in reading more but I'm not going to go out of my way at this time to track down the next volumes (maybe for next year).
Dark World by Zak Bagans — 3 out of 5 stars
If you've watched the show Ghost Adventures then you are familiar with Zak Bagans.  I don't know why I picked this one up at the library as Bagans tends to annoy me on his show, and he wound up annoying me in this book.  But, there are some interesting moments and observations.  Don't expect any of his personal stories, at least not in depth.  He talks about some of his experiences but he offers no new details from what was aired on his show.  Not bad if you want to get in the Halloween spirit, but not something I would recommend going out of your way to read.
Remarkable Reads by J. Peder Zane — 3 out of 5 stars
A mixed bag of essays from a wide variety of authors, each picking a book that somehow changed or affected them.  The best essays detailed the reading experience and the connection to the author's life.  Sadly, many were just chapters out of the author's biography with a brief nod to some book they just happened to read at the time.
---
Until next time, Happy Reading!!!