We've all been through it.  Those feelings of wanting to read something, anything, yet everything just, well, sucks.  That was my week; I hit the reading slump hard.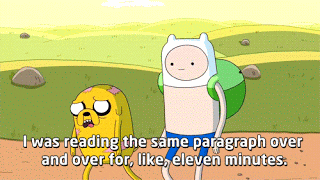 It took me off-guard.  This past week offered snow storms, power outages, and freezing temperatures, a combo that practically screams for me to curl up on the couch with a giant pot of tea and some good reading.  But every time I picked up a book or my kindle, I read about 10 pages and just couldn't go on.  Sunday, the tide seemed to turn.  I flew through the one book I managed to finish this week, and made some progress on a nonfiction.  Which leads me to my one review for the week……
The Yard by Alex Grecian — 3.5 out of 5 stars
One of my choices for my January "New Year, New Series" theme.  And I can honestly say the lower rating is definitely a case of "it's not you, it's me."  While the last 200 pages grabbed my attention and I couldn't read them fast enough, the first 200 left me feeling confused and irritated.  There are a lot of characters that are introduced at a pretty quick pace, as well as several changes in the point of view.  I just couldn't connect with the main characters until later on, but see my note above.  I already have book two, The Black Country, so I guess when I read that one I'll know for sure if it was really the slump talking or if this series is only just "not bad."
---
Here's to getting over our reading slumps!  Have a great week, and Happy Reading!!