This has probably been the most surreal week I've ever seen, and I'm sure thousands of others will agree.  But I couldn't forget to send out St. Patrick's Day wishes!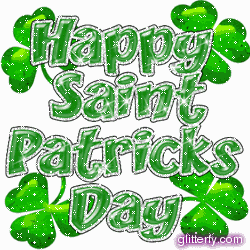 Even though everything has been cancelled and closed down, I still hope you can find some Irish cheer at home.  I made some shamrock-shaped sugar cookies, that's about the extent of our celebrations in this household!
While many are practicing "social distancing" I will be doing some media distancing over the next few days.  The overwhelming amount of news coverage on the internet and television has been exhausting, and I have found myself stressing out and focusing way too much on the what ifs.  Don't worry, I'll be keeping up to date on Goodreads and here, maybe check in on Instagram, but that's about it for a least a few days.  I know from past experiences that brief vacations from the internet can be truly relaxing, giving my mind time to detox from all of the negativity floating around out there.
And it should give me more time to attack my book hoard!!
The Week In Books
The Only Good Indians by Stephen Graham Jones — 4.5 out of 5 stars!!
A huge thanks to NetGalley for sending me an e-copy for review.  Watch for my review closer to the release date in May 2020.  *Update* review was posted here on March 13!
Snow by Ronald Malfi — 4 out of 5 stars!
If you love the first snowfall of the year, maybe standing in the swirling flakes and admiring the beauty of nature, this book may make you rethink that.  A fast-paced horror tale that I can totally see being made into a movie for the SyFy channel.  Be sure to check this out, especially if you're a fan of strange creatures trying to take over the human race.
The Dark Lake by Sarah Bailey — 3.5 out of 5 stars
This was a good, solid mystery with plenty of twists and a large list of suspects.   My biggest problem was not being able to connect with the main character/narrator, Detective Gemma Woodstock.  I just didn't like her.  Even by the end when things changed a bit, it just didn't do enough to change my opinion of her.
The Names of Our Tears by P. L. Gaus — 2.5 out of 5 stars
A bit of a spoiler—there is no resolution in this one, which is frustrating to say the least.  But that wasn't the only problem for me (even though it's the biggest one).  There is just an overwhelming amount of uninteresting, flat characters, many of whom have similar names to confuse the issue (This is one of my pet peeves.  There are thousands of names out there, why use Emma and Emily, or Tim and Tom?  You're the author, get creative!!).  And when I'm counting down the remaining pages by the end of the second chapter, well, never a good sign.
---
I hope you all stay safe and healthy in the coming weeks.  Try to lose yourself in a good book, it's always a great way to escape the real world for a bit!  Until next time, Happy Reading!