The Week in General
First of all, I just want to say Happy Memorial Day and thank you…….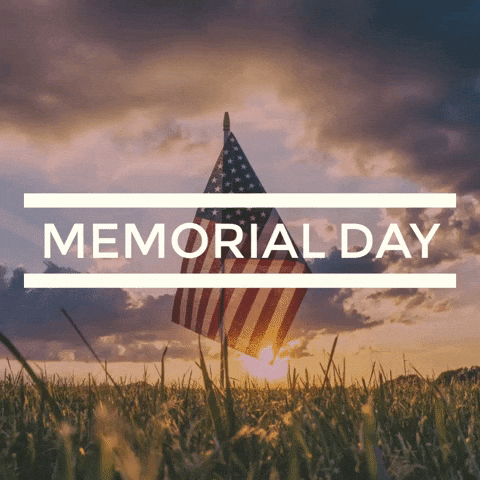 Once again, I hope this finds you all safe and well.  While things are slowly getting back to some semblance of normalcy around here, this household is still taking all precautions and avoiding the newly opened businesses until the novelty of reopening goes down a bit.  My husband is high-risk, with both asthma and heart issues, so the last thing we want to do is let down our guard….he even ordered a cool face mask that looks like a dog's face, much better than my little homemade ones (and one he is more likely to want to wear!).
The weather has not been cooperating this past week, bringing a seemingly endless amount of rain.  But I will not complain as this will keep our fire danger down for a bit longer (and that's the last thing we want to deal with this summer).
And then there's the books!  What we're all here for!   🙂   I'm going to tell you in advance, I blame my recent insomnia for any snarky reviews that may or may not follow.  That being said, (cracking knuckles)  here we go…….
The Week in Books
The Raven by Jonathan Janz — 3.75/4 out of 5 stars
I have a review I'll be posting closer to the publication date in September 2020 but I'll say this much:  this has a different vibe from Janz's other works as it's more of an action-adventure with some supernatural elements rather than straight horror…and that's all I'm sayin'.   😉
Those Who Go Forth Into the Empty Place of Gods by Curtis Lawson and Doug Rinaldi — 3 out of 5 stars
This novella was, well, different!  Kind of a melting pot of sci-fi, horror, ancient religions, supernatural, and dysfunctional family dynamics….all in 93 pages!  The overall story was good and I'd say worth reading, my biggest problem was the Main Character, I just couldn't root for this guy as much as I wanted to, which brought the rating down.
Eleven Miles of Night by Edward Trimnell — 3 out of 5 stars
And a very low 3 at that.  A college student agrees to walk a lonely stretch of highway that is reputed to be haunted by everything from witches to hellhounds.  I was expecting more creepiness, instead I got a character study of people I wound up not giving a rat's ass about.  The scary scenes were few and far between, and the author really needs to work on his apparent love for over-explaining every…damn…thing.  Hmm, the more I write, the more I'm rethinking those 3 stars…..
These Nameless Things by Shawn Smucker — 2.5/3 out of 5 stars
If I'd known this was a Sunday sermon using Dante's Inferno as an excuse to venture into the depths of a quasi-hell in order to show the route to redemption/heaven….. well, needless to say I wouldn't have requested it since that's not something I read on a regular basis. I will give Shawn Smucker props for his writing as he does have a way with words, and I really didn't hate it. But it was slow going and a tad too preachy for my tastes.
Heroes of the Frontier by Dave Eggers — 2 out of 5 stars
I haven't wanted to punch a character as much as I did with Josie!  And this wasn't a case of "I love to hate her," this was a full-blown attack of "I hate this woman so much I want to punch her in the throat."  A woman "flees" to Alaska with her two young children, rents an ancient RV, and drives aimlessly around the state.  This had potential, and Eggers has a way with words (the only reason this didn't get tossed into my one-star shitpile), but when a book grates on my nerves as much as this one did I find it difficult to find any redeeming qualities.  And if someone can tell me what "ice-priest eyes" means, I'd appreciate it, the author loved this phrase!
---
So, while this wasn't the best reading week, I am looking forward to my upcoming books, including the thriller I'm currently reading.  And don't forget, a new theme will be announced June 1, where I enlist the help of a special guest to help me choose my June reads!
Until next time, stay safe and healthy, and as always, Happy Reading!!!