Hello again!  I'm hoping this finds you all safe and well.
With all the crises going on right now, not only nationally but world-wide, I thought we could all use a bit of kitten zen…….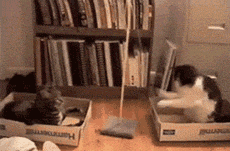 Last week, I really felt like I couldn't write anything, let alone read.  I still feel like I'm at a loss for words for pretty much anything, positive or negative, but at least my reading concentration came back, and at full force.  Here's what I managed to finish since the last update……
The Week in Books
What She Knew by Gilly MacMillan — 4 out of 5 stars!
I'll admit, I was surprised with how much I liked this book.  I've read several "child goes missing, parent is blamed" stories over the past few years with mixed results, but this one just felt different from the beginning.  I think it helped that this is the first in a series featuring Detective Jim Clemo, giving it more the air of a mystery rather than a melodrama gone awry.  A good, solid story that kept me guessing until the end, and I'm looking forward to reading the next in the series.
The Crooked Heart of Mercy by Billie Livingston — 4 out of 5 stars!
If you're looking for an uplifting, happy, fun read… this isn't it.  This is a tale of loss, grief, family dysfunction, heartbreak, and the power of love.  A thoroughly depressing story but still one that I would recommend.
The Midwives by Duncan Ralston — 4 out of 5 stars!
Much different from Ralston's Ghostland which I recently read, in that this focuses more on the story-telling over the gore.  Don't get me wrong, there are still some vivid scenes, but fewer and far between.  It's almost folkloric in a way, with an ancient evil and some pretty creepy old ladies reigning over a small East Coast island.  I thought it was a little slow at times, but that could also be due to the mindset I was in and the lack of concentration I had at times over the past couple of weeks.
Little Fires Everywhere by Celeste Ng — 3 out of 5 stars
I try to avoid over-hyped bestsellers for as long as possible.  But I had enjoyed Ng's Everything I Never Told You so I went against my own counsel and, well…….at least it didn't suck.  There were enough good moments to keep this floating at 3 stars, but I hated most of the characters and I grew tired of the overdone melodrama pretty quickly.
Novellas, Anthologies, and Short Stories
The Pale White by Chad Lutzke — 4.5 out of 5 stars!
Three girls held captive and used as sex slaves plan their escape.  In less than 100 pages, Lutzke takes you into their world and makes you care about these girls.  His ability to develop these complex characters in such a short amount of space always impresses me, this story is no exception.  I will agree with a fellow reviewer that I wasn't too fond of the ending, but it still works.
Shallow Waters Vol. 1:  A Flash Fiction Anthology by Crystal Lake Publishing — 4.5 out of 5 stars!
Every month, Crystal Lake Publishing hosts a contest for authors to create some flash fiction (1,000 words or less) using a particular theme or prompt.  This is by far one of the better anthologies I've read and features some horror greats like John Boden, Chad Lutzke, Robert Ford, Armand Rosamilia, Mercedes Yardley, and many more.  I can't wait to read the rest of this awesome series!
The Edge of Life by Joe Hart — 4 out of 5 stars!
Only 23 pages but a lot of story!  What would you do, to what lengths would you go, to bring your family back and keep them safe?  The premise is simple and straight-forward, and will chill you to the bone.
99 Stories of Blood on the Wall:  A Collection of 99-Word Horror Stories by Kevin Cathy — 3 out of 5 stars
I give the author props for coming up with 99 stories, all with only 99 words.  There were some very good ones, even a few darkly funny ones, but by a certain point they all seemed to become the same story, just different order of words.
---
I always welcome comments and reading suggestions, feel free to drop me a line!  Be sure to take care of yourself, and be kind to others.  Until next time, Happy Reading!
Black Lives Matter!