Being hit with wind and rain storms this past week has really brought out my hibernation tendencies.  This was how I felt over the weekend in the midst of a very long power outage….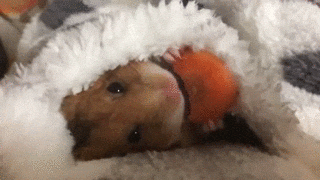 Yep, curled up in a cozy blanket, munching on chips, and thinking this is going to be a very loooooonnnnng winter!    😀
On the plus side, I've had plenty of time to finish up some books, really a little bit of everything!
The Week in Books
Make sure to look for the x/31 to track my progress on my 31 Books of Halloween!
Tea and Croakies by Sam Cheever — 4 out of 5 stars
This was a fun cozy read, and one I really needed to lighten my mood a bit!  This is kind of like a mellow version of Midnight, Texas, with our MC Naida being a "magical artifact wrangler," with a friend/co-worker who happens to be a Fairy Princess…and let's not forget the intuitive grey kitten named Mr. Wicked, a frog who seems a bit put out, and a coven of witches who live up the street.  Great fun and I'm looking forward to reading more of this series!  (18/31)
The October Boys by Adam Millard — 3.5/4 out of 5 stars
This was one of those mixed feelings kind of book.  For the most part, it was a solid 4 stars, with very heavy vibes of Stephen King's IT.  I liked the build-up, and the characters were fleshed out pretty well.  But what brought this down for me was the ending.  I won't say much other than I still don't know how I feel about it, it was fine but I guess I was expecting something else.  Still, I recommend checking this out.  (19/31)
Shadow Vista by Charles Colyott and Mark Steensland — 3.5/4 out of 5 stars
Written and published exclusively for NightWorms, this is a tale made for a bad movie adaptation….and really, that's a good thing!!  We have a serial killer who is using an abandoned housing development as their burial grounds, with  clueless security guards and a random homeless guy stumbling upon the carnage.  Yeah, it's a bit predictable, there's a lot of bloodshed, but it's like watching a horror movie on the SyFy channel…you wind up being entertained more than being scared.  Recommend.  (20/31)
Evangeline by KC Franks — 3.5 out of 5 stars
So, I don't know how to describe this without giving away the entire premise of the story, so I'll just say this:  Evangeline like a tamer version of I Spit on Your Grave, but with a big twist.  There are a ton of triggers and I would only recommend this to die-hard dark horror fans.  (21/31)
Vampire Mountain (Cirque Du Freak #4)  by Darren Shan — 3 out of 5 stars
I found a few of these YA books at a used book sale a while back and thought I'd see if they would be something my son would like.  This is the first in the series I've read, and there are some definite pros and cons.  Pros:  I could easily slip into the story as there was enough backstory provided to keep me from being totally disoriented.  Cons:  it was basically a 190 page introduction to book 5.  There's enough though that has me intrigued and I am now looking for the earlier books so I can catch up!  (22/31)
Blackfin Sky by Kat Ellis — 2 out of 5 stars
The blurb sounded so promising!  An unusual town, a girl that comes back from the dead (or did she?), a creepy circus in the woods…Sadly, it was a hit and a miss for me.  I can't even tell you the difference between the characters, nor do I care to.  I would put this book down for a couple of hours, and when I picked it up again I couldn't remember what I had just read.  There were a few good (memorable) passages that kept it out of the 1 star shit pile, but overall a big not recommend (unless you need a sleeping aid, this will help!).  (23/31)
Son of Rosemary by Ira Levin — 1 out of 5 stars
Yes, the sequel to the famous Rosemary's Baby is really that bad.  I took one for the team so you don't have to subject yourself to this total shitshow.  You're welcome. (24/31)
---
I hope you are staying safe, sane and healthy!  Happy Reading!!