It's a couple of days early, but to everyone celebrating Thanksgiving (SAFELY!!!!) on the 26th, I say to you, that no matter what…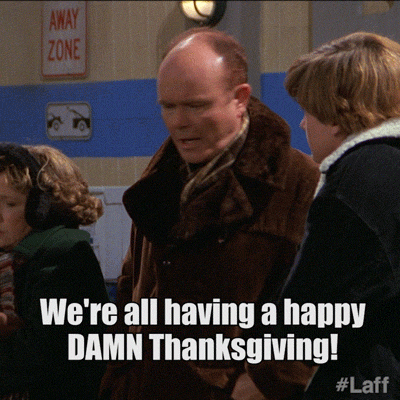 Sure, it's going to be different this year for many of us, but what's one Thanksgiving compared to the ongoing health of your loved ones??  Is Aunt Shirley's root vegetable cheesecake and Uncle Earl's drunken rants about the latest conspiracy theories really worth risking your health?  Of course, I can't answer that for you, and I can't hand out common sense.  But I truly hope everyone celebrating will stay safe…and thanks to zoom, you can still listen to your drunken uncle's rants (and your stomach will thank you for not having to sample the questionable cheesecake).
Even though 2020 has been "a giant dumpster fire" (thanks to Tosh.O for the perfect synopsis!), I have still found things to be thankful for.  Family and good friends of course.  The love and companionship of my dogs and cats.  The knowledge that I still have the strength to find good hidden in a giant crap pile of bad.  Homemade raspberry jam.
But I think I'm most thankful for the bookish community.   To my fellow bookdragons, those I've known for years and those I've only just met, whether you are a fan of romance or horror, whether you review or write or just simply share with me your love of reading, you've helped me to keep my focus and my sanity this year, and for that I want to say thank you and much love to you all.
The Week in Books
Wormwood by Chad Lutzke and Tim Meyer — 4.5 out of 5 stars
Rounded up to 5 stars on Goodreads.    As you all know, I love me some Lutzke, so when I heard this new story was going to be a part of my November NightWorms package, I was beyond excited!  This is one of those stories that I could feel the vibes from the two authors (Lutzke does more emotional horror while Meyer is known for his pretty graphic scary stuff), but that doesn't take away from the story…and if I didn't just spoil that for you, you probably never would have known…sorry!!!  A coming of age story where who you pick as your friend really does have consequences.  Probably not for everyone but I highly recommend.
The Things That Last Forever by Peter W.J. Hayes — 4.5 out of 5 stars
Rounded up to 5 for Goodreads.
Vic Lenoski is a cop with a gravely injured partner, a missing daughter, a marriage on the rocks, and a need to find answers.  Taking matters into his own hands, he follows some leads to North Dakota, where he will face the blurred lines between right and wrong.
This novel has everything I love about a good thriller/mystery, from solid characters to head-spinning twists.  Although I hadn't read the first two books in the series, the author provided enough back-story to inform me without bogging down the narrative. I really have no complaints about this one; highly recommend.
Trial By Fire:  A Devastating Tragedy, 100 Lives Lost, and a 15-Year Search For the Truth by Scott James — 4 out of 5 stars
I will be writing a review of this and a similar book, Killer Show by John Barylick, in February 2021, the morbid anniversary of the deadliest rock show in American history.   I will say this now though:  if you read true crime or have an interest in how screwed up certain laws are, or just want to read some truly amazing survivor stories, you can't go wrong with Trial By Fire.
---
Respect your fellow humans…wear a fucking mask!!
Until next time, Happy Reading!